For Pricing, please email
email hidden; JavaScript is required
We are not yet open for 2019 reservations but are still taking renters for 2018. 
Tolgy Wood has three distinct camps that can be rented separately or in different combinations.
Parking labeled on the map is parking available for everyone, regardless of which camp they are renting. You cannot rent this parking and get private use of it (unless you are renting all three camps). However, there will be other parking areas available in your space where you can have private parking. 
In order to rent the Dining Hall, all three camps must also be rented, in which case, you may have private access to the parking lot as well. The dining hall seats 200 and has a commercial kitchen.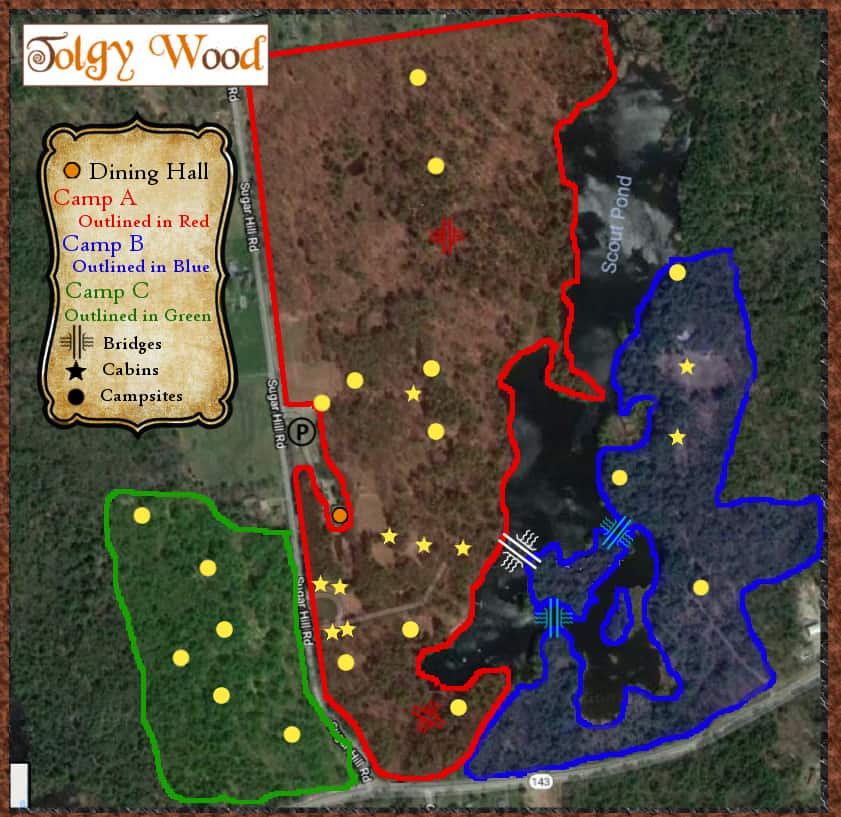 Full Camp Weekend (Fri-Sun) Rentals:
Camp A- Outlined in Red on the Map
-Dining Hall is included in Camp A for 2018 Rentals Only
Buildings:
–Ecology Cabin: 20 max (wood stove and electricity)
–Craft Cabin: 18 max  (wood stove and electricity)
–Cook's Cabin: 14 max (full kitchen, bathroom*, electricity)
–Health Lodge: 18 max  (full kitchen, bathroom*, electricity)
–Director's Cabin: 14 max  (full kitchen, bathroom*, electricity)
–Mossey Cabin: 8 max  (bathroom*, electricity)
–Camp Office: 24 max (full kitchen, bathroom*, electricity)
–Magee Lodge: 100 max (wood stove, electricity, sink*) – most groups use at least part of this as an activity area)
Campsites:
Camp A boasts 9 distinct campsites, each with their own designated firepit and many with their own latrines. While there is plenty of space for camping otherwise, these sites are designed for tenting.
You can walk over 4 Miles of Trails that lead to far off campsites, a fae ring, an outdoor amphitheater, a gorgeous waterfall, boating docks, a watchtower, and more! 
There are also 2 shower houses with additional bathrooms onsite at Camp A. Throughout the camp there are many pit latrines that have hand-washing sinks.
We also provide onsite WiFi for event organizers to use based out of the Camp Office.
*Running water in the kitchen and bathrooms is available from approximately late April to October
---
Camp B- 
Outlined in Blue on the Map
Buildings:
–Warren Chase Lodge: 36 max  (wood stove and electricity)
–Adirondack Shelters x7: 4 each (no electricity or heat source – open air)
–Shooting Pavilion: 6 max (electricity)
You can walk over 2 Miles of Tolgy Wood Trails leading to old ruins, beautiful campsites and incredible lake views, but are also able to hike hundreds of acres of State Land to the east, all with usable trails! 
Camp B also offers running water year-round (via a small pump house), but the two pit latrines only offer hand-washing sinks from approximately late April to October.
---
Camp C

–

Outlined in Green on the Map

Camp C is designed for the smaller, rustic LARP or as an interesting "modular" add-on option to Camp A. With 6 beautiful campsites, 3 latrines, and a small shed-like building, Camp C is perfect for tenting and maintaining a period atmosphere. 
---
*The "max" numbers are based on utilizing bunk beds, and there are probably not enough bed-stacking legs to put bunk beds in all areas. This is likely okay, though, as people over 200 pounds tend to be unconformable on top bunks. One of our plans is to build sturdier bunk beds, but that will take some time.
For individual cabin or campsite rentals or to rent during the week, please email email hidden; JavaScript is required
Click for larger images of some of our amenities (more photos coming soon):